Description
- GET OUR EASY FIT FORD RANGER FASCIA PLATE AND 4 BUTTONS OF YOUR CHOOSING FOR A FRACTION OF THE COST OF BUYING THEM SEPARATELY - 

DESCRIPTION
That's right, you get the full Ford Ranger Switch Faceplate and then you get to choose any 4 of the buttons you fancy to make it yours. Just let us know in the order comments which switches you want and we will get them shipped out alongside the switch plate so that they all arrive together and ready to go.
These switchplates just snap right into place in your Ford Ranger / Ford Ranger Raptor / Ford Everest in seconds and the buttons are just as easy to install into it. 
THE NERDY TECH STUFF
THE NITTY-GRITTY.
STEDI all-new Ford switch fascia to suit the Ford Ranger PX2, PX3, Ranger Raptor and Everest (2015-2019), effortlessly solves the lack of switch blanks in the aforementioned Ford models. 
The STEDI switch panel requires no modification whatsoever to the original dash. Unlike alternate solutions, our installation process is completely non-intrusive, meaning you do not need to remove any console or trim pieces for the installation. Switch wiring aside, the fascia panel can be fitted in under 60 seconds. 
Compatible with our entire range of Square Type Pushes switches, which have O.E.M-like latching feedback. 
STEDI Registered Design 201916784
TECH SPECS
| | |
| --- | --- |
| MATERIAL | INJECTION MOULDED PLASTIC |
| COMPATIBILITY | |
| Ford Ranger  | 2015 to current | World Wide |
| Ford Everest | 2015 to 2019 | World Wide |
| Ford Ranger Raptor | 2018 to current | World Wide |
WHAT'S IN THE BOX
Ford Ranger / Raptor / Everest faceplate
4x switch plates of your choice.

Just let us know in the order details which 4 of the following options you would like:


•

AIR COMPRESSOR


•

AUX BATTERY


•

BEACON


•

BLANK


•

FOG LIGHTS


•

FRIDGE


•

FRONT DIFF LOCK


•

LEFT SIDE LIGHTS


•

LIGHTBAR


•

ON/OFF


•

POWER


•

REAR LIGHTS


•

REAR DIFF LOCK


•

RIGHT SIDE LIGHTS


•

ROCK LIGHTS


•

ROOF LIGHTBAR


•

RJ45 UHF PASS THROUGH


•

SPOT LIGHTS


•

STEDI OWL


•

STEDI TEXT


•

TRAY LIGHTS


•

USB CHARGER


•

WINCH POWER


•

WORK LIGHTS

SWITCH AVAILABILITY

Click here to check stock availability for each switch
WIRING INSTRUCTIONS
Please note: wire colours may differ, but positions are still relevant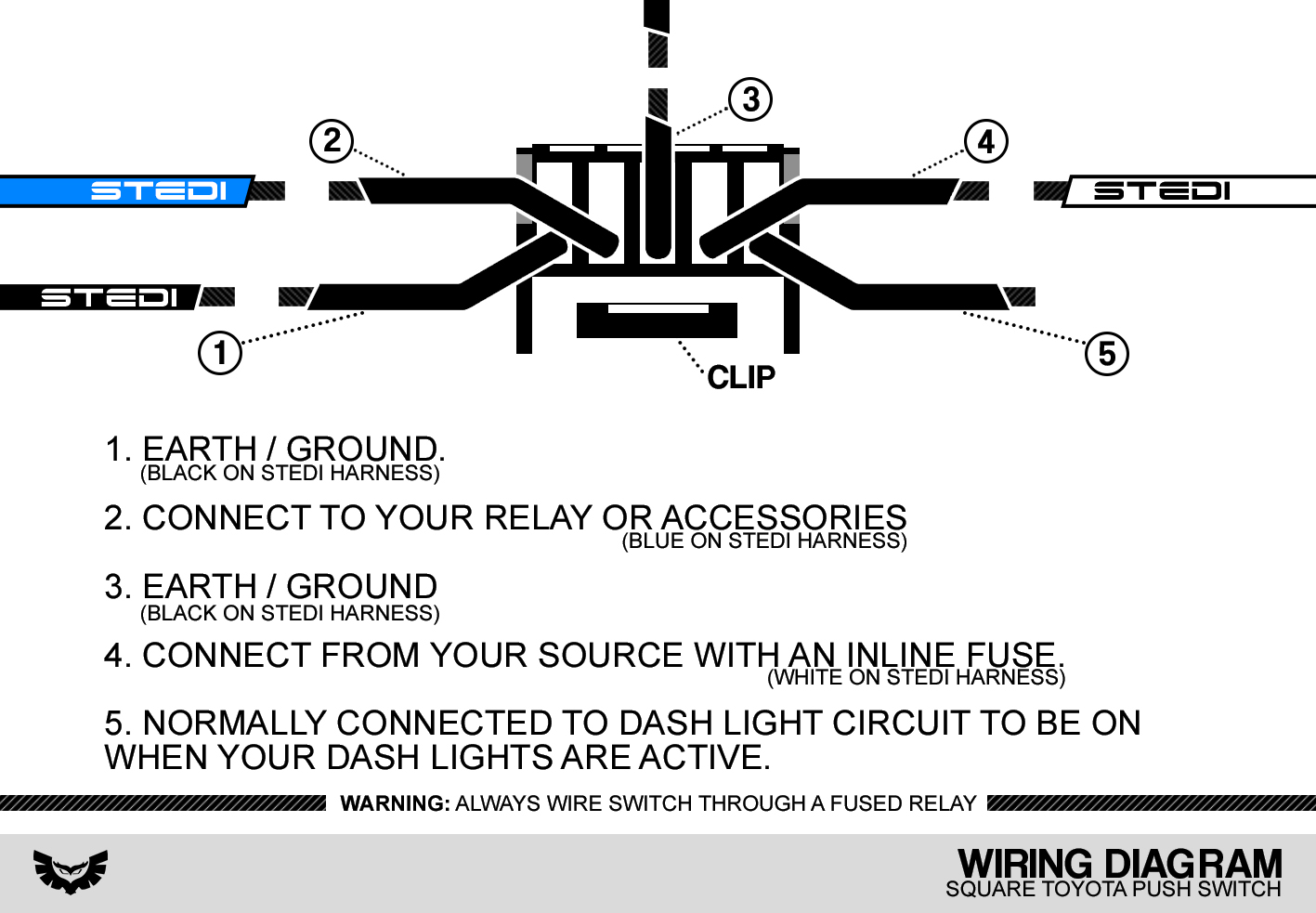 INSTALLATION GUIDE
Contact Stedi UK
Feel free to get in contact with ourselves! We love helping our customers get the right lights.
Email - sales@stediuk.com
Office hours are 09:00 - 17:00 GMT, Monday to Friday.
Payment & Security
Your payment information is processed securely. We do not store credit card details nor have access to your credit card information.